History of the Diocese
What is now the Archdiocese of Chicago was created in 1843. At the time, it comprised the entire state of Illinois. Over the next century, most of the state would be removed from its jurisdiction until, in 1948, it comprised only Cook and Lake counties—a territory it has retained through the present date. While its geographic size has shrunk over the decades, its prominence and prestige have grown with the expansion of the city it calls home. In 1880, the Diocese of Chicago was designated an archdiocese, and since 1916, every archbishop of Chicago has attained the rank of cardinal. Today, the Archdiocese of Chicago, led by Cardinal Blaise Cupich, is home to 700 diocesan priests, 449 religious order priests, 151 religious order brothers, 1,105 nuns, 656 deacons, and 42 certified pastoral associates. In 2021, the archdiocese reported providing religious leadership to approximately 2.2 million Catholics, nearly two-thirds of the Catholic population of Illinois.
Historic Leadership of the Church in Chicago
a. Bishops of Chicago
i. William Quarter (1844-1848)
ii. James O. Van de Velde (1848-1853)
iii. Anthony O'Regan (1854-1858)
iv. James Duggan (1859-1869)
v. Thomas Foley (1869-1879)
b. Archbishops of Chicago
i. Cardinal Patrick Augustine Feehan (1880-1902)
ii. Archbishop James E. Quigley (1903-1915)
iii. Cardinal George Mundelein (1915-1939)
iv. Cardinal Samuel Stritch (1939-1958)
v. Cardinal Albert Gregory Meyer (1958-1965)
vi. Cardinal John Cody (1965-1982)
vii. Cardinal Joseph Bernardin (1982-1996)
viii. Cardinal Francis George (1997-2014)
ix. Cardinal Blaise Cupich (2014-Present)
The Diocese's History of Handling Claims of Child Sex Abuse by Clerics
On February 2, 2006, the Archdiocese of Chicago's independent professional fitness review board gathered for a regular meeting. Cardinal Joseph Bernardin's creation of the board in the early...

Established 1843
2 counties
221 parishes
2,093,000 Catholics
275 abusive clerics and religious brothers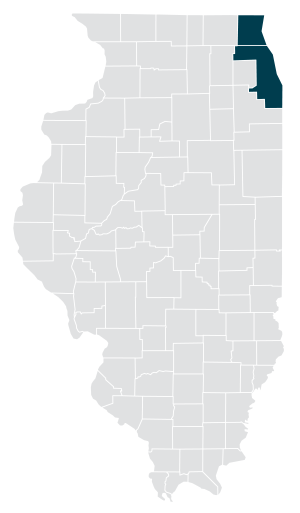 Narrative Accounts of Child Sex Abuse
The following section contains explicit narrative accounts of child sex abuse committed by Catholic clerics while ministering in the Archdiocese of Chicago. Where the narrative was written in consultation with a survivor, and based upon their experience, it is published with the survivor's express permission. In those instances, unless otherwise noted pseudonyms are used to protect survivor identities.
READ NARRATIVE ACCOUNTS >
Information Relating to Child Sex Abusers in the Diocese
The following section contains specific information regarding substantiated child sex abuse committed by Catholic clerics while ministering in the Archdiocese of Chicago. This information includes:
Name/Ordination Year
Diocesan/Order
Illinois Assignments
Reported Survivors
Date/Location of Reported Abuse
Diocese Claim of First Report
Placed on Catholic Church Public Lists
Actions/Status
VIEW ALL INFORMATION >